Friendly Pharmacy is a locally owned, family friendly pharmacy located in the heart of Greensboro.  Our goal is to exceed the service you are currently getting at your current pharmacy.  Our staff is trained on all private and government health care plans and we strive to maximize prescription savings and effectiveness of all therapies.  Our store will work with our customers who have routine or specialized needs such as heart disease, diabetes, cholesterol, and pain management.   Friendly Pharmacy utilizes the newest in technology to serve you better, including education hand outs, electronic refill requests, and personalized medication counseling.
Our owners Mike and Jay and the pharmacy staff are committed to making your experience enjoyable and rewarding and will accept feedback on how to make your future visits better for your needs.  We will minimize your wait times as much as possible, while utilizing technology to help provide you and your family with information and education to make your future health a priority.  Feel free to utilize our facebook page and iphone application to enhance your Friendly Pharmacy service.
We want the opportunity to save you money and keep you safe through our 'Friendly Prescription Review'.
We will earn your trust through our commitment to keeping you safe and healthy.
We want to be your the only pharmacy you'll ever need.
We will earn your business through our prompt service and knowledgeable pharmacists.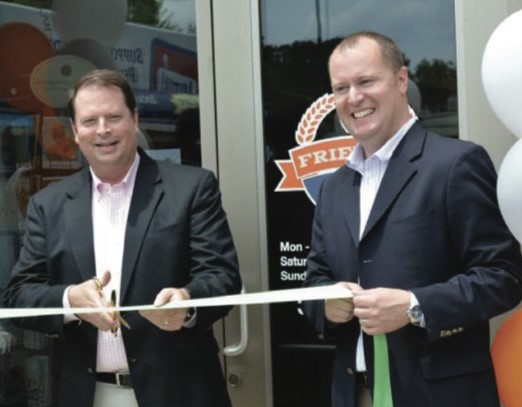 Co-Owner
Michael Stainback
The son of two Greensboro, NC natives, Mike was born and raised in eastern North Carolina in the small town of Kinston. After graduating from Arendell Parrott Academy in 1986, he furthered his education at the University of North Carolina at Chapel Hill from 1986-1991 majoring in Economics. After college, Mike started a career in real estate appraising with the Lenoir County Tax Office which later led to a move to Greensboro, NC in 1994 working with a local appraisal firm.  He opened his own appraisal firm in 2002 and has remained in the real estate appraisal and investment arena since that time. During this time he met his wife, Leslie, and married in 2000. They have been blessed with twin boys, James and Thomas, and their little Boston Terrier, Lucy.  Mike is a member of the Kiwannis Club of Greensboro and enjoys spending time with his children.
Jay was born in Alamance County NC just east of Greensboro.  He has resided in North Carolina his entire life.  After graduating from Southern Alamance High School in Graham, he attended the University of North Carolina at Chapel Hill.  Jay received a Bachelor's degree in Chemistry in 1998 and then attended the UNC school of Pharmacy where he received a Doctorate in Pharmacy in 2002.  Jay married his wife Jamie, a Greensboro native, in 2004 and together they have one son and one daughter.  Jay and Jamie now live just outside of Greensboro in the town of Summerfield, NC. 
Friendly Pharmacy
The Friendliest Pharmacy In Town!

3712-G Lawndale Drive
Greensboro, NC 27455